2012.09.29 Sat
「告习近平和中国共产党高级官员书」保卫钓鱼岛宣言
保卫钓鱼岛宣言
告习近平和中国共产党高级官员书
谨此声明,钓鱼诸岛是日本领土。
你们应该立刻离开钓鱼诸岛!
停止侵略行为!
我们必定要保卫国家!
必定戳穿你们的狼子野心!
日本是神的国家是神国。
如果神国寸土被侵犯,定将受上天的惩罚!
犯下的罪孽必将导致自灭,
中国共产党的一党独裁必将受到天罚而自亡。
应放弃侵略别国的野心,以和为贵,
回归清纯的心境,
解放人民,崇敬佛神。
告中国人民书
日本人民无害人之心,
是有爱心重道德的民族。
你真正的敌人是夺走了人民的信仰和言论自由的独裁政府,
是为了自己的私欲,掠夺人民财产的匪帮。
现在,13亿人民团结起来,
推翻共产党独裁体制,
打败佛神和人民的敌人!
这是天意。
这是天命!
遵从天意站起来吧!
上天定会助你成功!
スポンサーサイト
2012.09.29 Sat
Please translate into the language of your country and spread this image in the whole world.
And let's realize Chinese democratization.
Declaration to Defend Senkaku Islands by Japanese people
To : Xi Jinping and The Chinese Communist Party officials.
We hereby declare that Senkaku Islands are Japanese territory.
All Chinese should immediately go away from the Senkaku Islands!
Stop invading our territory!
We will defend our country! No matter what!
We will surely crack down your evil ambition!  
Japan is the Divine Country governed by God.
Should you invade our divine land even an inch, you will surely receive punishment from Heaven!
That sin will inevitably ruin your regime from within
The communist, dictatorial government of China will surely end up with self-destruction due to this punishment!
Abandon your evil desire to invade other countries and surrender yourselves to the divine heart of grand harmony.
Restore the pure heart.
And liberate your people to follow the heart of Divinity.
To the citizens of China:
We sincerely declare that Japanese people mean no mischief against people in China.
We are people of Love and Virtue
Your true enemy is the authoritarian government which took away faith, words and liberty from the people of China.
Blame should be given to the gang of bandits who deprives money and properties from the people of China.
Now is the time to combine the power of 1.3 billion people
And bring down the communist, dictatorial government of China.
Defeat the enemy of God, the enemy of the people!
You must understand it as a Divine Will.
Now the divine mission is given to you all!
Follow your mission to rise against your enemy!
Heaven will surely help you!
Hissho Yanai
http://youtu.be/6uEuBQsWWrM
Defend Okinawa&Kyushu Project
http://bouei7.blog.fc2.com/
New York Times 
http://nyti.ms/QxcdFN
Documentary Video
http://bouei7.blog.fc2.com/blog-entry-296.html
2012.09.28 Fri
FacebookやTwitterを使って、この動画を、全世界に拡散しましょう。
皆様の国の言葉に翻訳し、この動画に世界中の言語で字幕をつけてください。
そして、世界中から習近平と中国に向けて、このメッセージを発信しましょう。
中国国内の人民に、この勇気と希望の言葉が届きますように。
我々は、13億の中国の民の<魂の目覚め>を待っています。
◆「尖閣防衛宣言」にこめられた思い(矢内筆勝から全世界の同志の皆様へ)
◆ニューヨークタイムズ&ヘラルドトリビューンに掲載されました
◆韓国KBSテレビで報道されました
◆尖閣諸島をめざすまでのドキュメンタリー映像(15分)
<英語版 English Version>      <簡体字版>
※英語版のページはこちら ⇒ English Version  ※簡体字版のページはこちら ⇒ 簡体字版 

①習近平、並びに中国共産党幹部に告ぐ
 尖閣諸島は日本の領土である。
 汝らすみやかに尖閣諸島より、退散すべし。
 侵略行為を止めよ。
 我ら必ずやこの国を守らん。
 我ら必ずや汝らの野望を打ち砕かん。 
 日本国は、神が統べる「神国」なり。
 もし、一寸たりとも、神国の地を侵せば、必ずや汝らに天罰が下らん。
 その罪、必ずや汝らを内から滅ぼすであろう。
 中国共産党一党独裁体制は、必ずや天罰により、自壊するであろう。 
 汝ら、他国侵略の野心を捨て、大和の心に服すべし。
 清き心に還るべし。
 民を解放し、神仏の心に服すべし。 
②中国の民に告ぐ 
 日本人に害心なし。
 愛の民、徳の民なり。
 真なる敵は、汝ら民より、信仰を奪い、言葉を奪い、自由を奪う、
 独裁政権にあり。
 己の欲得のために、人民より金品を強奪する、山賊集団にあり。 
 今こそ、13億の民の力を結集し、
 中国共産党一党独裁体制を倒すべし。
 神の敵、民の敵を、打ち倒すべし。
 これ、天意なり。
 今天命が下らん。
 汝ら天意に従い、立ち上がるべし。
 天、これを必ずや助けん。
2012.09.24 Mon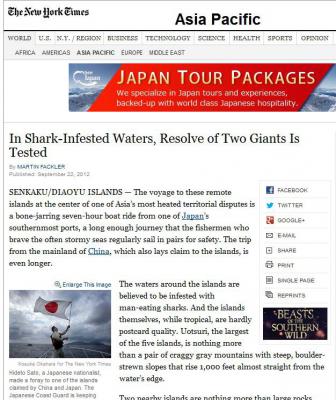 尖閣諸島海域での「尖閣諸島防衛宣言」が
ニューヨークタイムズ
に掲載されました。
9月20日、幸福実現党 沖縄・九州プロジェクト長(沖縄担当)の矢内筆勝は、同志2名とともに石垣島を出港。尖閣諸島を目指しました。そして、魚釣島沖にて、習近平および中国共産党幹部、中国人民に向けての告知文を読み上げました。 ⇒ 
詳細記事
ニューヨークタイムズの支局長とカメラマンも我々の船に同乗し、丸一日、密着取材を受けました。
その様子が、9/22のニューヨークタイムズ、Asia Pacific(環太平洋)のコーナーのTOPに掲載されました。
⇒ 
http://nyti.ms/QxcdFN

大変長文のレポートです。
以下、記事の最後の部分を、一部、翻訳したものです。
NEW ENTRY « | BLOG TOP | » OLD ENTRY